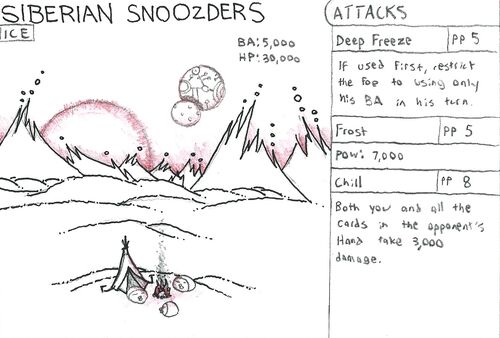 The Siberian Snoozders is a Fighter Card released in the New 2013 series. It was created by Ben.
Depiction
Edit
The card shows a cold, dreary landscape, with hills of snow and odd, spacey mountains in the background. Two moons and a large su can be seen in the sky.
Three rees, presumably snoozders, have made a small camp with a tent and a campfire.
The card has a BA level of 5,000 and an HP level of 30,000.
Deep Freeze
Edit
If used first, restrict the foo to using only his BA in his turn.
PP: 5
PP: 5
POW: 7,000
Both you and all the cards in the opponent's Hand take 3,000 damage.
PP: 1
Set/Subtitle
Edit